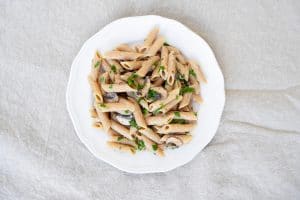 It's almost fall, although the warm weather around here seems to be here to stay for quite a while. Despite the hot September, I find myself craving warm and hearty meals. The dilemma is not wanting to heat the kitchen up too much with slow cooking soups, chili, and casseroles.
This meal is perfect for these 'in between' days. Days when the weather is too warm to spend too much time in the kitchen but close enough to Autumn when heartier food becomes necessary.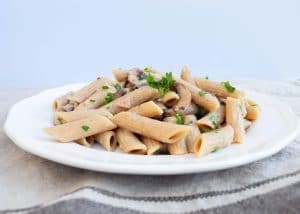 I love using a basic Bechamel sauce with pasta. It's a nice change from the usual tomato based sauces and is pleasantly creamy without being overwhelming. Paired with mushrooms and fresh parsley, this is a dish that makes a regular appearance, even during busy weeknights.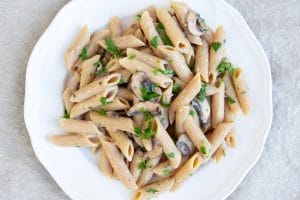 Creamy Pasta with Mushrooms
Ingredients:
1 lb penne pasta
2 Tbsp olive oil or more vegan butter
16 ounces cremini mushrooms, sliced
4-5 cloves garlic, minced
3 Tbsp vegan butter
3 Tbsp flour
1 1/2 cups nondairy unsweetened milk
salt and pepper
1/4-1/2 cup minced parsley
Optional: juice of half a lemon
Directions:
Cook pasta according to package directions.
In a large saute pan, over medium heat, heat the olive oil. Saute the mushrooms and garlic until the mushrooms are soft and the garlic fragrant. Set aside.
In a small saucepan, heat the butter over medium-low heat. Stir in the flour until a paste forms. Whisk the milk in and continue to stir until the sauce is thick and creamy. Season with salt and pepper.
Add the pasta and the cream sauce to the mushrooms in the large saute pan and combine well. Stir in the parsley and lemon juice and enjoy!