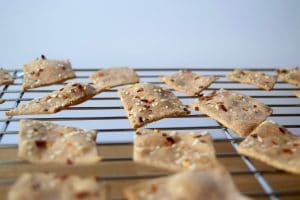 Sure, crackers are pretty easy to come by in the stores, in a variety of flavors too. But homemade crackers are just that much better. Homemade crackers are cheap and easy to make and freshly made, not to mention so delicious they don't need any dips or spreads.
With a three year old around, both he and I require plenty of snacks to get us through the day. Although we both enjoy snacking on cookies and muffins, I try to have some of our snacks be savory.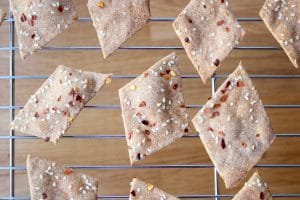 This flavor combination of red pepper flakes and sesame seeds is my absolute favorite. All the toasty flavor of sesame seeds with a little kick, these are addicting and I challenge you to not eat the whole batch in one sitting.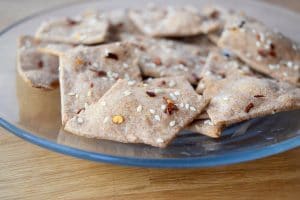 My three year old loves to help me cut out the shapes, so we went with a basic diamond shape this time. But using cookie cutters, making rounds, or cutting them into squares works well too.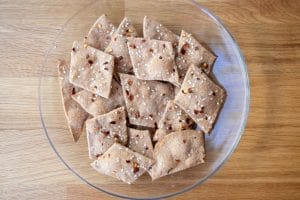 Sesame Chili Crackers
1 1/2 cups flour
1/2 tsp salt
1/2 cup water
1 Tbsp maple syrup
2 Tbsp olive oil
4 tsp sesame seeds
2 tsp red chili flakes
Preheat the oven to 450 degrees F.
In a large bowl, mix the flour, salt, and 2 tsp sesame seeds. Add the water, olive oil, and maple syrup and knead into a soft dough.
Roll the dough on a floured surface until it's about 1/8 inch thick. Brush a little water on the top and press the rest of the sesame seeds and all the chili flakes into the top of the dough. Cut into desired shapes.
Arrange on a floured baking sheet and bake for about 15 to 20 minutes. Let cool completely on a cooling rack until cool and crisp.