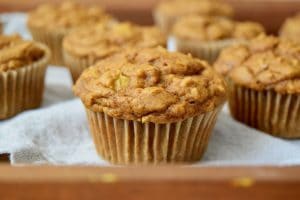 All year long I look forward to pumpkin and apple season. I spend all of autumn switching back and forth between all things apple and all things pumpkin. So when it came time to bake some muffins, I couldn't decide if I wanted apple or pumpkin.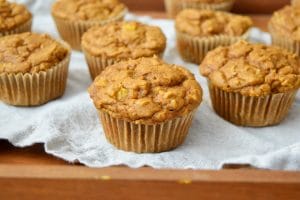 So I put them together! And what a perfect match.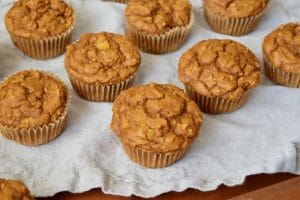 The pumpkin and spices make the muffins rich and warm, and the apples boost the sweetness and moisture. It was hard not to eat the whole batch in one sitting!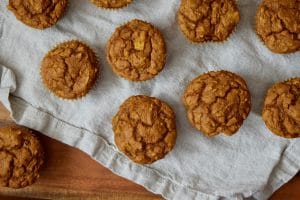 You could use any variety of apple, depending on your tastes. I used a sweet and crisp honeycrisp apple which worked perfectly. I also left the skin on for the added nutrition, but if the texture isn't your thing, peel the apples first.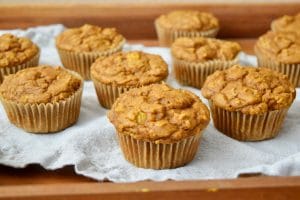 Apple Pumpkin Muffins
Ingredients:
2 cups whole wheat pastry flour
2 tsp baking powder
1 tsp baking soda
2 tsp pumpking pie spice
1/2 tsp salt
1 1/2 cups nondairy milk
1 cup pureed pumpkin
1 cup grated apple
1 cup diced apple
3/4 cup coconut sugar
1/3 cup coconut oil or vegan butter
Directions:
Preheat the oven to 350 degrees F. Line a muffin tin with liners or grease well.
In a large bowl, mix the flour, baking powder, baking soda, spice, and salt. In a separate bowl, whisk together the milk, pumpkin grated apple, sugar, and butter.
Pour the wet mixture into the dry and mix well. Fold in the diced apple.
Pour the batter into the muffin molds. Bake until a toothpick comes out clean, about 25 minutes. Let cool completely on a cooling rack.

SaveSave
SaveSave