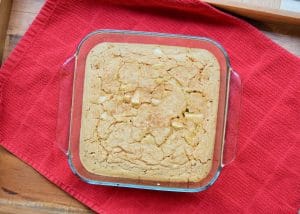 Ok, so I know what you're thinking. Baked pancake? Huh? Isn't a pancake supposed to be a cake…pan fried? Yes, it is. But here me out. A baked pancake still has all the flavors of a perfect pancake, except for two things. One, you don't have to stand over a hot stove flipping pancake after pancake. And two, your baked pancake is so fluffy and soft, you'll never want a boring, flat pancake again.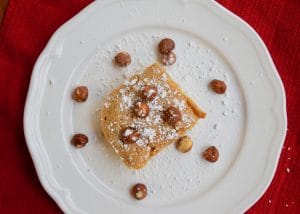 You could really add anything to the pancake batter. Blueberries or chocolate chips would be my next choices. But with apples in season, they really are perfect when baked in a fluffy pancake.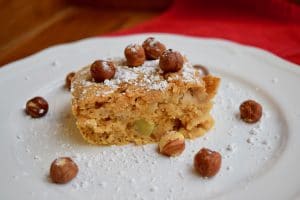 This is the perfect lazy weekend meal. The kind of breakfast where you want pancakes but don't really want to slave over the stove. Just mix the batter, throw it in the oven, and lounge on the couch while your house smells like autumn heaven.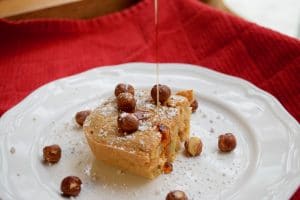 The flavors of this baked pancake are spot on. The spicy cinnamon plus the sweet apple bring a whole new level of comfort to breakfast. Add some good quality maple syrup and you've got yourself a sure winner. I topped mine with powdered sugar and hazelnuts for even more deliciousness.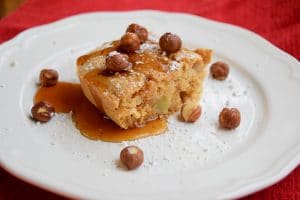 Cinnamon Apple Baked Pancake
Ingredients:
2 cups whole wheat pastry flour (or any all purpose)
2 tsp baking powder
1 tsp baking soda
1 tsp cinnamon
1/2 tsp salt
2 cups nondairy milk
1 tsp vanilla
4 Tbsp coconut sugar
juice half lemon
1 apple, finely diced
Optional: 2 Tbsp vegan butter, plus more for serving
Toppings, such as maple syrup, powdered sugar, and nuts
Directions:
Preheat the oven to 375 degrees F. Grease an 8 by 8 baking pan or iron skillet with the butter. If you aren't using oil or butter, use parchment paper to prevent sticking.
Add the lemon juice to the milk and let sit to curdle. In a large mixing bowl, mix the flour, baking powder, baking soda, cinnamon and salt.
Add vanilla and sugar to the milk and whisk well. Pour the milk mixture into the flour mixture and stir until combined.
Fold the apple pieces into the batter and pour into the baking pan. Bake for about 20-30 minutes, or until a toothpick comes out clean. Serve hot, in slices, with toppings like butter, syrup, powdered sugar, and nuts.