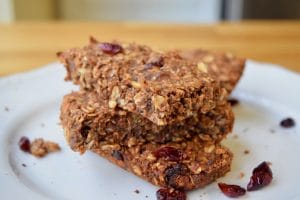 Granola bars are one of those snacks that are just perfect for grabbing and going. With the right ingredients, they are filling, energy boosting, and delicious. But store bought are so often filled with a high amount of sweeteners, fillers, and preservatives. Fortunately, making your own is super easy.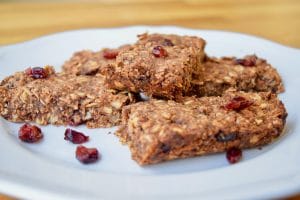 I make a few variations of granola bars, depending on what I have in my pantry. The options are pretty endless and ingredients can easily be swapped and substituted. This particular variation is a current favorite, and it's perfect for anyone who loves chocolate.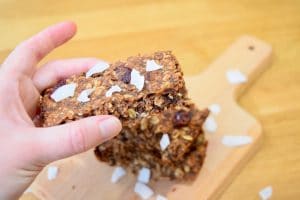 Cashew butter serves as the base for this bar because it's flavor is mild and rich and doesn't overpower any of the other ingredients. But it can definitely be swapped for peanut, almond, or sunflower seed butter. They keep well in the fridge for a longer shelf life and are perfectly sweet and chocolate-y. So yummy!
Chocolate Cranberry Granola Bars
Ingredients:
2 cups oats (gluten-free or regular)
10-12 dates
3/4 cup cashew butter
1/4-1/2 cup water
1/4 cup chocolate chips
1/4 cup dried cranberries
1 Tbsp hemp seeds
1 Tbsp chia seeds
1/4 cup unsweetened shredded coconut
1/4 cup cocoa powder
1 tsp cinnamon
1/2 tsp salt (if peanut butter is unsalted)
2 Tbsp coconut oil
2-4 Tbsp maple syrup
Directions:
Preheat the oven to 375 degrees F. Soak the dates in hot water for about 10 minutes. Take out the pits and any rough skin.
In a food processor or blender, blend the dates, 1/4 cup water, and the cashew butter until smooth. Add more water if needed.
In a large bowl, mix together all of the ingredients. It will form a large, thick ball of dough.
Press the mixture into a very greased 8 x 8 inch pan. Bake for about 15 minutes.
Let cool completely and transfer to the fridge to chill for at least an hour. Store in the fridge.