After Thanksgiving, or any winter holiday meal, I love having leftovers to enjoy the week after. The buildup to the holidays is always so hectic and the kitchen hours required for a big holiday meal are long and tedious. So, after all that, I like to have my meals already cooked and ready to eat.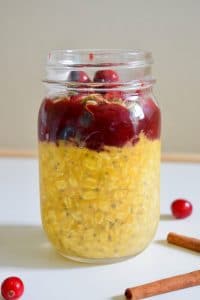 It's easy to heat up a plate of mashed potatoes and stuffing for lunch the following days, but what about breakfast? And what about the leftover cranberry sauce that seems to just sit in the fridge untouched?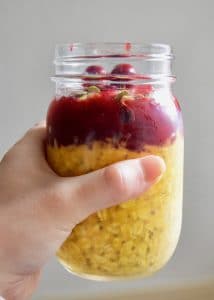 This is where overnight oats come to the rescue! This is a breakfast that only requires the mixing of ingredients in a jar. Then, all you have to do is let it sit and you have breakfast ready to go! No more cooking!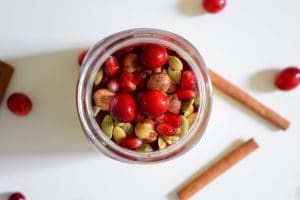 The combination of pumpkin overnight oats with cranberry sauce is pretty magical. All the spices and sweetness and tartness all meld together for a sweet Thanksgiving breakfast in a jar!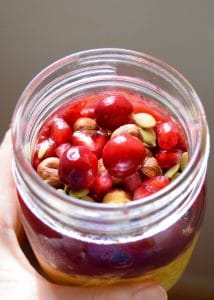 Cranberry Pumpkin Overnight Oats
Ingredients:
1 cup rolled oats
2 cups nondairy milk
1/4 cup canned pumpkin
2-4 Tbsp maple syrup
1/2 tsp cinnamon
1-2 Tbsp chia seeds
pinch of salt
1/4 cup prepared cranberry sauce (try this recipe here!)
Toppings such as pumpkin seeds, hemp seeds, pomegranate, and more cranberries)
Directions:
Add all the ingredients except for the cranberry sauce and toppings in a jar. Mix well to combine. Let sit in the fridge overnight to thicken.
When ready to eat, top with the cranberry sauce and any toppings you want. Enjoy!