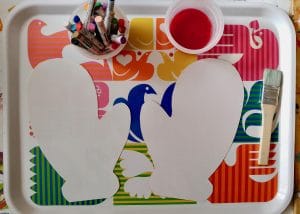 Watercolor resist painting is one of those tried and true art methods for kids. It's always appealing to watch the watercolor resisting the crayons or oil pastels and the finished pieces are gorgeous. And in honor of the changing seasons, colorful mittens sounded perfect!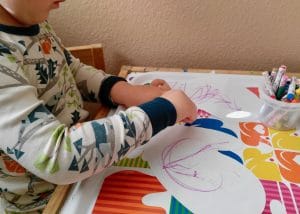 As with any art project involving multiple mediums, there is a ton that can be taught with a project like this. Younger children will learn just from experimenting with the feel of the crayons or oil pastels and will think that it's magic when they paint over it in watercolor.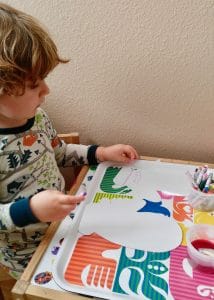 Older children can focus on more complex ideas such as line, pattern, symmetry, and basic color theory. If I were to do this with a class, the lesson would most definitely be creating symmetrical patterns on both mittens because not only is it a great way to understand those concepts, it's fantastic fine motor and visual practice!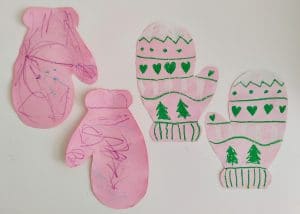 Since I was doing this project with a three year old, we just focused on good old fun and experimentation. I made a pair of mittens along with him in order to model the process, but ultimately left the details up to him. He loved the smooth feel of the oil pastel and how the paint pooled around his drawings. I'd say a successful fall/winter art project!
All I did was trace a mitten shape from the shape of my hand on a folded piece of paper. Then, when I cut it out, I had two matching mittens! Then, I set out the mittens on a tray with oil pastels (you could also use crayons) and watercolor. You could use more colors, but for a three year old, one cup of paint was plenty. Model for the child that first you draw with the oil pastels/crayons and then you paint over it with watercolor! Easy peasy!