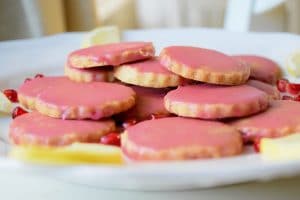 Shortbread cookies are one of my favorites. Usually, I'm partial to chocolate desserts, but there's something so satisfying about the tender, buttery shortbread cookie.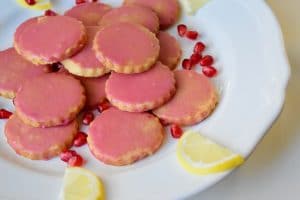 They are delicious as plain cookies, but taking them up a notch is as simple as choosing a flavor and letting it shine. I made a spiced orange shortbread cookie awhile back that was a big hit around here and I wanted to make a variation. Enter the lemon pomegranate shortbread cookie.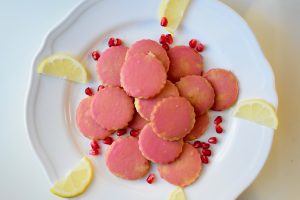 Lemon and pomegranate are a match made in heaven; the sweetness of the pomegranate with the tart citrus flavor of the lemon is light, lovely, and delicious. The key is to use something as close to the flavor of butter as possible. Coconut oil would work and create an edible cookie, but a shortbread cookie needs that butter flavor.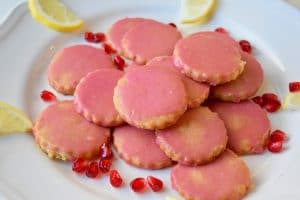 This cookie would be amazing for upcoming holiday cookie exchanges. This is a super easy cookie to whip up in big batches. Plus, they can be cut out into any shape and the color is just so beautiful.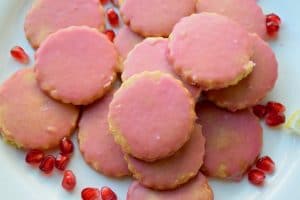 Lemon Pomegranate Shortbread Cookies
Ingredients:
1 1/2 cups whole wheat pastry flour
1/3 cup confectioners sugar
1/2 cup vegan butter, soft
1 Tbsp lemon zest
2 Tbsp lemon juice
Pomegranate Glaze:
1 cup confectioners sugar
1/4 cup freshly squeezed pomegranate juice
Directions:
Preheat oven to 350 degrees F. In a large bowl, whisk together the butter and sugar until smooth. Whisk in the lemon zest and juice. Pour in the flour and mix until a smooth dough forms.
Chill the dough for about 20 to 30 minutes. Roll out the dough into a 1/4 inch thick disk and use a cookie cutter to cut out the cookies.
Line a cookie sheet with a silicone mat or parchment paper. Bake the cookies for about 20 minutes. Transfer to a cooling rack and cool completely.
Whisk the sugar and pomegranate juice together to make a runny frosting. Pour over the cookies and let harden.