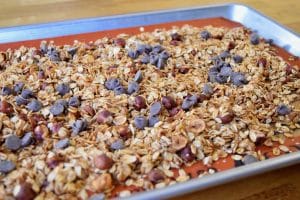 I consider granola a pantry necessity. It stores really well anyway but it's a perfect quick snack or breakfast option. It's also especially delicious on desserts like pudding and ice cream.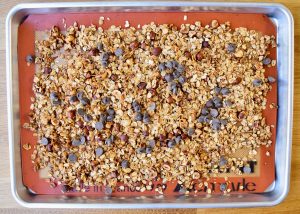 I also love how granola is so easy to mix and match flavors and ingredients. But hazelnut and chocolate is one of those so perfect flavor combinations that there's just no way you can mess with it. Subtly sweet and nutty hazelnuts plus rich chocolate? Yes please!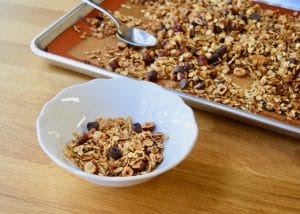 There are occasions when I buy granola from the store, but there's absolutely no reason to. Homemade granola comes together in big batches in no time at all and with minimal effort. And the best part is that it is so much cheaper and healthier than store bought granola.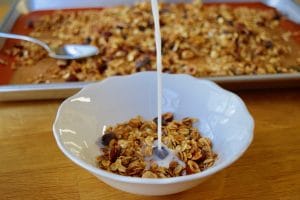 You can add the chocolate chips with a few minutes to go on the baking if you want them melted up a bit with the granola. But that comes down to personal preference. And if you want extra chocolate-y goodness, a few tablespoons of cocoa powder would be delicious.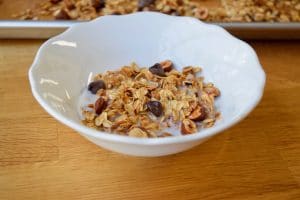 Chocolate Chip Hazelnut Granola
Ingredients:
3 cups rolled oats
3/4 cup chopped hazelnuts
1/2 cup chocolate chips
1 tsp cinnamon
1 tsp salt
1/4 cup maple syrup
1/4 cup coconut oil, melted
Directions:
Preheat the oven to 325 degrees F. Line a baking sheet with parchment paper or a silicone mat and brush with coconut oil.
In a bowl, mix all the ingredients, except for the chocolate chips, very well. Spread onto the baking sheet, gently pressing down.
Bake for 10 minutes, then lightly stir the mixture. Bake for an additional 10 minutes. Let cool and then add the chocolate chips. Enjoy with milk or straight.