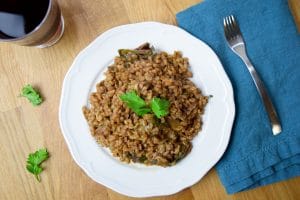 Porcini mushrooms are one of my favorite mushrooms. They are so rich and flavorful, perfect for matching with other big flavors like red wine and swiss chard.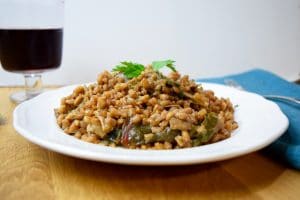 You can definitely use Arborio rice for a more traditional risotto, but I wanted a full bodied and full flavored meal. Farro is another ingredient that adds a layer of depth to the flavors; the nuttiness balances out the wine and mushrooms. As the weather begins to cool, this is exactly the kind of dinner that I crave after a long day. Plus, it's super easy and so delicious!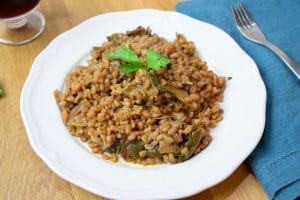 Porcini and Swiss Chard Farro Risotto
Ingredients:
1 ounce dried porcini mushrooms, soaked in hot water for at least 10 minutes
3 cloves garlic, minced
2 Tbsp olive oil
2 cups farro
1/4 cup red wine
6 cups vegetable broth
1-2 cups chopped swiss chard
salt and pepper
parsley, for serving
Directions:
Heat the olive oil in a large pot or dutch oven over medium heat. Add the garlic and cook for a minute or two, just until fragrant.
Add the farro and coat well with oil. Cook to toast for about 2 minutes. Add the wine and cook until completely absorbed. Pour in the mushrooms with their soaking liquid and cook, continuing to stir, until the liquid is absorbed.
Add the vegetable broth 1 cup at a time, stirring frequently. Once the cup has been absorbed, add the next one. After 3 cups, add the swiss chard and stir well.
Continue to add liquid until all broth is used. Turn off the heat and enjoy with fresh parsley.