I always get so excited when I see produce in the store that I don't see very often in my area. Red kuri squash is one of those, so when squash season comes along, I wait patiently until some fun and different squashes start turning up.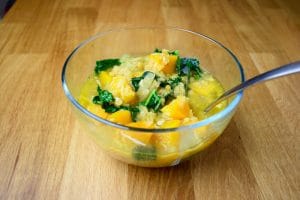 Red kuri squash, like other winter squashes, cooks up to be tender and delightfully sweet. A perfect star for a bowl of soup, this is a hearty and filling vegetable. You can eat the skin, so if you chop it up and roast it, it can be enjoyed just like a kabocha squash.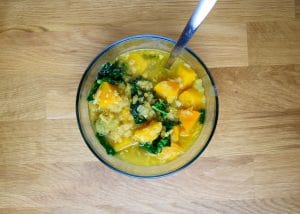 But for this recipe, I treat it like a butternut squash by peeling and dicing it. This soup is perfect for fall and winter and just so hearty and warming. A delicious weeknight treat for a chilly night!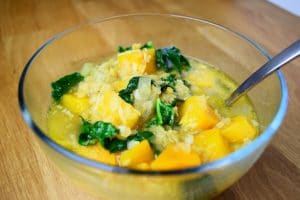 Red Kuri Squash and Lentil Soup
Ingredients:
2 Tbsp olive oil
1/2 onion, diced
3 cloves garlic, minced
1 red kuri squash, peeled and diced
3 stalks celery, finely chopped
1 cup red lentils
4-6 cups vegetable broth
1 Tbsp curry powder
1/4 cup shredded coconut
1/2 cup kale, roughly chopped
salt and pepper to taste
Directions:
Heat the olive oil in a large pot over medium heat. Add the onion and saute for a few minutes. Stir in the garlic, squash, and celery. Cover to let the squash soften and steam for about 10 minutes.
Pour in the lentils and curry powder and cook for several minutes. Add the broth and bring to a boil. Reduce to simmer and cook until the lentils are soft, about 40 minutes.
Add the kale and coconut and cook a few extra minutes to soften the kale. Turn off the heat and serve hot.