A good biscuit is the unsung hero of a hearty meal. It's just so nice to have a warm, buttery, flaky biscuits to eat along with a meal, especially with a big slice of vegan butter.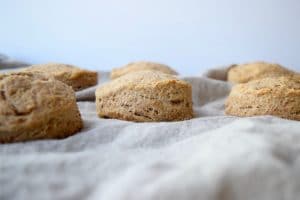 Biscuits aren't just something to serve on the side during a dinner. They are also a delicious breakfast with a smear of jam or nut butter. Or as an easy snack when you need a little something between meals.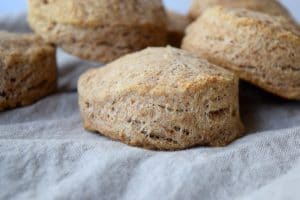 These biscuits were so much fun to make with my son, who loved to roll the dough out. We didn't get as many layers as I would have liked, but they were still delicious and came together in no time.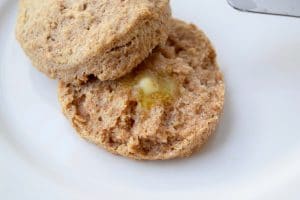 Whole Wheat Biscuits
Ingredients:
2 cups whole wheat pastry flour
1 tsp salt
1 tbsp baking powder
1/4 tsp baking soda
5 tbsp vegan butter
1 cup nondairy milk
1 tbsp apple cider vinegar
Directions:
Preheat the oven to 425 degrees F. In a large bowl, mix flour, salt, baking powder, and baking soda. In a separate bowl, mix the milk and vinegar and set aside to let it sit.
Cut in the butter until it resembles breadcrumbs. Pour the milk into flour mixture and mix well.
Roll out the dough and fold it in half. Repeat this step 4 or 5 times in order to create the layers of the biscuit. Roll out the dough into 1/2 inch 3/4 inch round and cut out biscuits using a round cookie cutter.
Bake for about 20 minutes, or until the biscuits are golden.