I love homemade toys and gifts. There's something special about the time and thought behind things like this, but it's also a great way to save money. Sure, many plastic toys are cheap, but they are usually pretty poor quality and often are not very open ended. High quality toys can be hard to find and very expensive, unless you take matters into your own hands.
One of the high quality toys I've been wanting to get my three year old son is a light table. A light table is a fantastic medium, used often in the Reggio Emilia educational approach. It's basically a table that lights up and provides a surface for children to explore light, darkness, and color. You can use it to play with see through colorful toys such as Magnatiles or color blocks. Put some water beads or sand on top and you've got a sensory table for more than just the sense of touch. Or it can be used as a way to study science, using the light to examine leaves and other natural items. It can go even further and be used in art, place a piece of paper on top for tracing, painting, and mixing colors.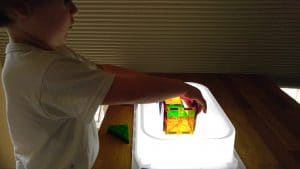 So you can see why a light table has been at the top of our list. But buying an already made light table can be super expensive. Plus, in my small home, I didn't really want yet another space taker.
I stumbled upon several people that use the Trofast storage box from Ikea as a DIY light table. Genius! But many of the tutorials that I found involved a process of drilling holes, glue, and spray painting plexiglass from Home Depot. These were all fantastic ideas, and if you want a higher quality DIY light table, check out Pinterest for a whole bunch of fantastic tutorials. But with a new baby, I needed something that was really easy, fast, and cheap.
With minimal shopping and no fuss, this light table came together in seriously no time at all. The best part is that there is no need to plug it in so it's portable and storage is so simple. And when he doesn't want to use the light table anymore, I have a storage box!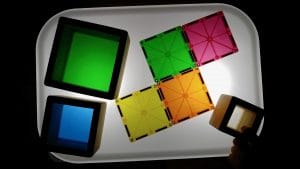 Here's how to make the EASIEST DIY LIGHT TABLE EVER:
Start with a Trofast storage box. I got the medium size, but really any size will do. The larger size will probably need more lights, however.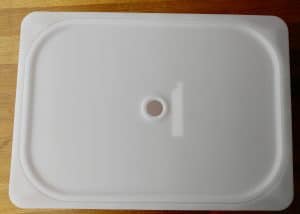 Then you need some touch LED lights. I got mine from Costco awhile back but these or these from Amazon work too. They also sell them at the dollar store for even cheaper! Simply stick the LED lights to the lid with double sided tape (many of the lights they sell come with an adhesive of some kind) to the inside of the Trofast lid.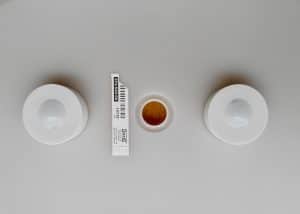 When ready to use the light table, lay the lid with the lights facing up on a table or the floor. Turn on the lights and flip the Trofast container right on top of the lid. You can also have tape handy if you want to seal the lid to the box while you use it, but we haven't had an issue.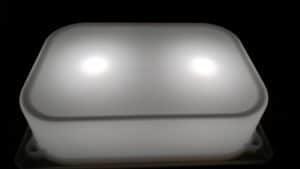 There you have it! The easiest DIY light table ever!