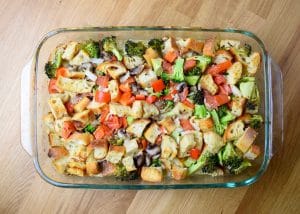 One of my favorite breakfast foods is strata. Like a stuffing, it's main component is carbs, so of course it would be a favorite. Traditional strata is basically bread and veggies and/or meat baked in a creamy egg mixture. This version was inspired by a recipe out of "The Baker Creek Vegan Cookbook" by Jere and Emilee Gettle.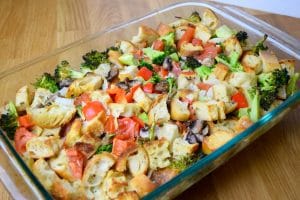 The cookbook is packed with vegetable-heavy and simple recipes that have all been delicious. But the Heirloom Broccoli and Potato Casserole stuck out.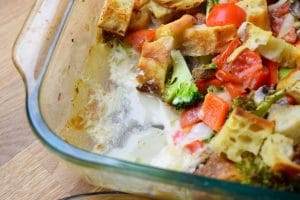 Their casserole is baked in a creamy sauce that thickens as it cooks, and as we were eating it, we thought that a similar sauce would be perfect in something like a strata. So we did some experimenting and voile! An easy, vegan strata.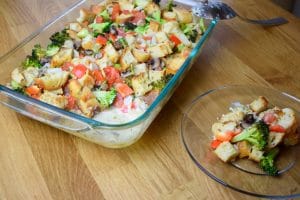 In the instructions, I make a note to let the strata sit so the bread soaks everything in. The strata in the pictures? Yeah, well I forgot to make it the night before and a hungry toddler was looking forward to this. So, the strata pictured was baked right away. However, it was still amazing and creamy and delicious.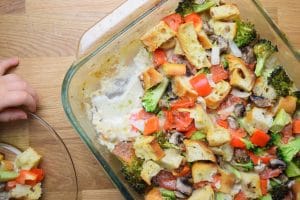 Vegetable Strata
Ingredients:
1 loaf good quality bread, cubed and preferably slightly stale
3-4 cups broccoli florets
1 red bell pepper, diced
1/2 onion, diced
1 lb mushrooms, chopped
3-4 roma tomatoes, diced
3 cloves garlic, minced
2 Tbsp olive oil
1 1/2 cups unsweetened nondairy milk
1/2 Tbsp cornstarch
1 tsp Italian seasoning
4 Tbsp nutritional yeast
salt and pepper to taste
Directions:
Grease a casserole dish and set aside.
Heat the olive oil in a large skillet over medium heat. Add the onion and cook for a few minutes to soften. Add the bell pepper and mushrooms and continue to cook for several minutes. Add the broccoli, garlic, and tomatoes. Cover to steam until broccoli is bright green. Remove from heat.
Add the bread cubes to the casserole dish and mix the vegetables in.
In a separate bowl, whisk together the milk, cornstarch, Italian seasoning, and nutritional yeast. Pour over the vegetables and season well with salt and pepper. Give the mixture a good stir and put in the fridge to chill overnight.
When you are ready to finish the strata, preheat the oven to 350 degrees F. Bake the strata for about 50-60 minutes, until the top is golden and the liquid has thickened.