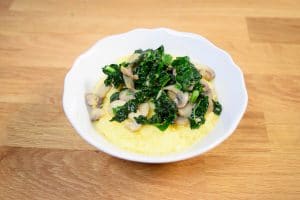 Polenta has become such a staple for us around here. It's hearty and filling and, like other grains, serves as such a great heart of a vegetarian or vegan meal. Although it requires a bit of love and attention, it's very easy to make.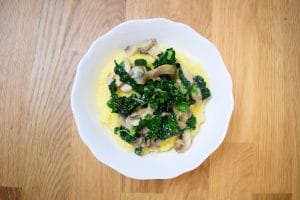 We enjoy polenta in a zillion ways, but we have a few favorites that keep finding themselves on the meal plan. One of these is polenta with mushrooms and kale. We make this as a either as a side to something like roasted beans or as a main for a busy night when we want something easy with minimal prep.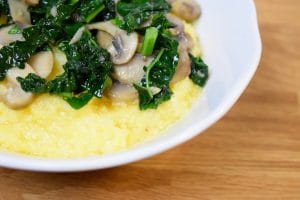 This would be fantastic with easy additions such as beans, tempeh, nutritional yeast, or even some slices of avocado. But we love this simple dish with a drizzle of good quality olive oil and a glass of wine.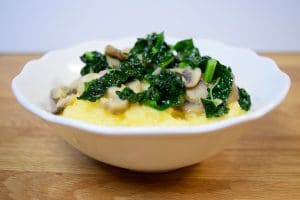 Ingredients:
6 cups water
2 cups polenta/corn grits
2 Tbsp olive oil
2 cups chopped crimini mushrooms
2 cups chopped kale
3 cloves garlic
more olive oil for sauteeing and finishing
salt and pepper to taste
squeeze of fresh lemon juice
Directions
Prepare the polenta. Bring 6 cups salted water to a boil. Add the polenta and the oil and stir well. Reduce heat to simmer and continue to cook, stirring often, for about 25 minutes.
Meanwhile, heat some olive oil in a pan over medium heat. Add the mushrooms and garlic and cook until the mushrooms are soft and cooked through.
Add the kale and continue to cook until the kale is bright green and wilted. Add salt and pepper.
Fill your bowls with cooked polenta and top with the vegetables, a drizzle of olive oil, and a squeeze of fresh lemon juice.